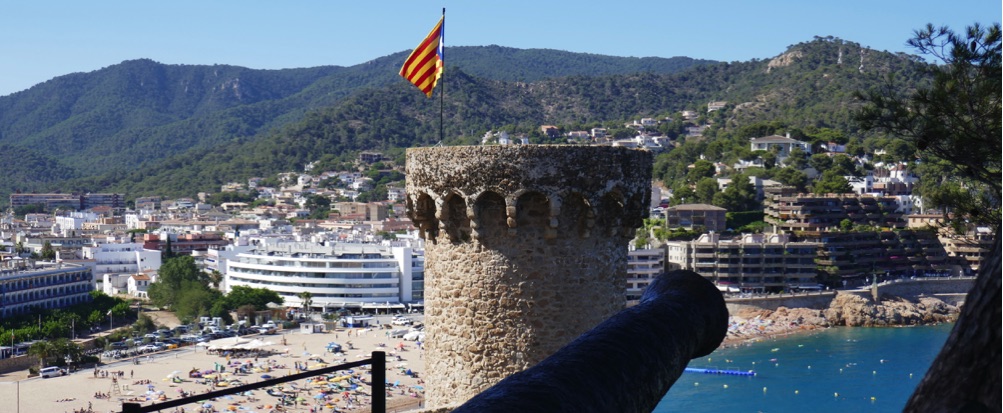 We spend a week at the Hotel Arenys de Mar in the town of the same name on the Costa Brava. Jana manages to get sunburned on the first day she and Alex arrive... (Alex suffers a bit too!) so Gordon arrives to take car of poor Jana's back! Tuesday was Water World day: Alex had examined all the water parks nearby (about 4!) and selected AquaWorld as our destination for the day! Mommy didn't join us and did her own wander.
Wednesday we visited the gem town of Tossa de Mar (pictured). A gorgeous place, one we vowed to return to and possibly stay next time, On the way there we stopped at a family park Alex and I had spotted the previous day. We had the obligatory minigolf on a fiendishly difficult course; and of course more games and table football! In the evening had a great dinner with our sponored Red Bull Rookie rider American Sean Kelly and his parents.
Thursday we visited the amazing Empuries, which has the remains of both an ancient Greek and Roman town, and was one of the great Mediterranean trading ports in the first centuries and earlier.
Friday we had a business meeting in Barcelona, so we spent the day in the city, visiting the Aquarium and having lunch at our favourite beach bar. Saturday was to be our last full day, so keeping our promise to Alex, we declared it a beach day. Sadly the weather didn't cooperate, but it wasn't a huge loss as Alex got to play more games of table football -- the running theme of the week! The week closed with the annual town festival, which we felt privileged to be able to join, eating the local sausages mass-cooked in the main square; wine, parades and fireworks. A great goodbye to Costa Brava!